Shopping Cart
Your Cart is Empty
There was an error with PayPal
Click here to try again
Thank you for your business!
You should be receiving an order confirmation from Paypal shortly.
Exit Shopping Cart
Industry News & Resources
How To: Prepare for Renovating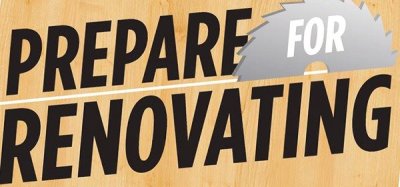 Spring has sprung and maybe you're finally ready to build that new deck, paint those golden oak cabinets in the kitchen or install that new bathroom tile. Renovations are a natural part of home ownership — here's a few things to consider before you swing that sledgehammer or make a trip to your local home improvement store.
WHAT'S YOUR MOTIVATION?
Are you selling your home and looking to increase the value? Have you purchased a house with the sole purpose of renovating it to make it the home of your dreams? Is your home outdated? What are you looking to accomplish? Just a few questions to answer before you start ripping up that old carpet or tearing down those paisley drapes.
CONSIDER A HOME INSPECTION
If you've lived in your home for a number of years the Canadian Home Builders Association (CHBA) suggests a complete home inspection as a way of giving you a snapshot of the condition of your home and is a good starting point before diving in with a renovation. "For effective long-term planning and budgeting, it is important to know when to expect major home maintenance expenses," said the CHBA. "An inspection can make it easier to plan for future expenses such as furnace and roof replacement."
NEED A PERMIT?
Do you need to get a specific permit before you start swinging that sledgehammer? Within the City of Calgary, a building permit is required for erecting a new building or structure — including retaining walls over 1.2 metres, swimming pools and hot tubs as well as demolishing, relocating, repairing, altering or making additions to existing buildings or structures. Building permits in Calgary are not required for fences, sidewalks, planters, retaining walls less than 1.2 metres, painting, minor repairs or accessory buildings not greater than 10 square metres in area — if they do not create a hazard. Electrical and plumbing permits are separate from building permits so contact the City at 311 or www.calgary.ca before beginning any electrical or plumbing projects.
WHAT'S YOUR TIMEFRAME?
Having a wedding in your backyard and looking to build a new deck? Did you pull the short straw on hosting Christmas dinner this year and want to paint the dining room days away from the big event? Timing is important when it comes to planning for your home renovation. Are you planning on taking the DIY route or hiring a contractor? In a city like Calgary, contractors are busy folks so if you're taking the professional route it's important to call to see how far in advance they're booking. Or if you're doing renovations yourself, you'll maybe want to take some time off or be willing to live with a home in mid-renovation mode while you work at it evenings and weekends. Architect Tim Anderson offers this: "For a major home renovation, the design, permit and construction process often takes more than a year. Are you willing to invest that much time and effort?"
WHAT'S YOUR BUDGET?
Have you been saving up to finally rid your kitchen of that peach and forest green motif ? Budget is a major part of renovation preparation and Probuilt by Michael Upshall suggests adding two to three per cent to your final budget as a contingency backup. In 2011, the Canada Housing and Mortgage Corporation reported Canadians spent an average of $13,709 on renovations, of that amount, 81 per cent of respondants who undertook renovations in that year paid for part of the work from savings while 11 per cent chose to finance part of the cost through a line of credit or credit card. In a survey released by Scotiabank on May 21, 62 per cent of respondents said they'd finance their home project with cash savings while 29 per cent said they'd be using a line of credit.
Spring Reno Fever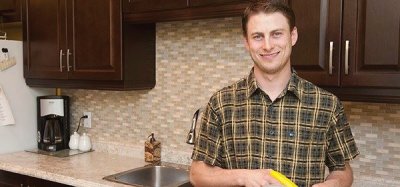 It's no surprise home renovations are on the minds of many Canadians in spring. It is after all, a time of renewal.
But this year it appears more Canadians are in the reno mood according to findings in the Scotiabank Mortgage Landscape Study. It says 44 per cent of Canadian homeowners are planning significant renovations to their homes in the next two years.
The survey found Canadian homeowners would most like to renovate their kitchen (33 per cent) followed by the bathroom (16 per cent) and the basement (16 per cent). One of those homeowners is Robert Heidmiller of Airdrie. Heidmiller recently completed a kitchen renovation in the home he shares with his fiancée Jody Paterson.
"Our old cabinets were made of MDF, they were ugly, terrible," he said.
Since they purchased their home three years ago, Heidmiller and Paterson have been continually renovating and adding to the space. They make time during evenings and weekends while working fulltime during the day. The kitchen reno involved replacing the flooring and cabinets as well as painting, and the couple has also installed new flooring throughout the main floor, added new light fixtures, rebuilt the basement bathroom and constructed a new deck and fence.
While ambitious do-it-yourselfers like Heidmiller and Paterson are wielding hammers and paint rollers, professionals in Calgary's renovation industry are also fully deployed helping other homeowners.
Painter Scott Appleby of Appleby Painting in Calgary said his company has been "very busy" lately.
"The easiest way to put it is we deliver a pretty high-quality product I think and I think customers demand that (high-quality) more so we're getting more people who are interested in our services," he said.
Appleby said six months of his year is comprised primarily of exterior projects but the most common interior requests are people having their main floor walls painted.
"The kitchen, living area, entry areas — just to spiff things up — those are the areas that get the most wear too," he said.
For the do-it yourselfer, Appleby recommended www.paintingadvice.ca, a forum where would-be painters can get tips from the pros like the Calgary painter on everything from staining exterior decks to painting over oak.
In the Scotiabank study, 93 per cent of homeowners planning to renovate said they knew how they'd finance their project. Of those, 62 per cent cited cash savings and 29 per cent planned to draw on a line of credit.
"From painting a room to replacing your kitchen, financing a renovation should be based on your goals with budget and timeline being key to the whole process," said David Strafford, managing director of Real Estate Secured Lending at Scotiabank. "The top three things to remember are understand what you can afford, have a budget and stick to your plan."
Scotiabank also recommends eco-friendly renovations in order to add value to homes as well as saving homeowners money over the long term. The bank has an EcoLiving Home Energy Savings Calculator to help Canadians calculate home energy costs and see savings that can be achieved through specific energy efficient projects and practices (CREB®'s HomeSmarts is also worth a visit for energy efficient practices at
www.creb.com/homesmarts
).
"Renovations can add great value to your home and when you choose environmentally friendly renovation options, you can save energy, water and money," said Kaz Flinn, vice-president of Corporate Social Responsibility at Scotiabank. "Making your home energy efficient will be a benefit that will continue to pay off over the years."
In a 2012 report released by the Canada Mortgage and Housing Corporation, Canadians spent $20.9 billion in 10 major markets across the country in 2011. The report found 95 per cent of renovations were room remodels followed by painting or wallpapering (54 per cent) and renovations involving plumbing fixtures (38 per cent). The least popular renovation project in 2011 was installing built-in appliances (12 per cent).
Half of Canadian Homeowners Plan to Renovate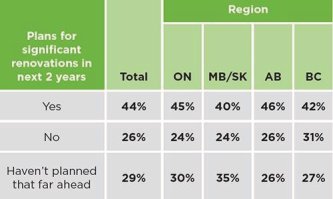 It's the season of home renovations and according to the Scotiabank Mortgage Landscape Study, 46 per cent of Alberta homeowners are planning significant renovations to their home in the next two years.
Albertans are the second most likely of all Canadian homeowners to have a major reno project planned, ranking only behind the Atlantic provinces where 47 per cent of homeowners planned to renovate.
The majority of all Canadian homeowners planning to renovate (93 per cent) said they knew how they finance their project, with the top financing sources being cash savings (62 per cent) and a line of credit (29 per cent).
The top rooms Canadian homeowners say they would most like to renovate were kitchens (33 per cent), followed by bathrooms (16 per cent) and basements (16 per cent).
"From painting a room to replacing your kitchen, financing a renovation should be based on your goals with budget and timeline being key to the whole process," said David Stafford, managing director of Real Estate Secured Lending at Scotiabank. "The top three things to remember are understand what you can afford, have a budget and stick to your plan."
/